Useful applications for family or farm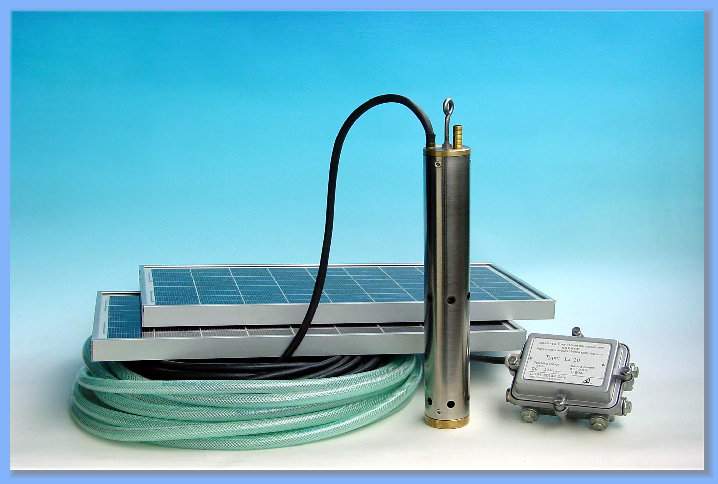 stock watering
drip irrigation --- a very effective for a family garden
water supply for cabins and remote houses
Introduction
Any place water is needed, but no AC power is available.
An ideal combination of water and sun that preserves the environment, saves energy and reduces physical effort.
The more sunlight, the more water is pumped (this is ideal for stock watering and irrigation). Water is pumped even on hazy days.
Economical: need only 2 x 12 W solar panels for up to 20 meters (appr. 60 ft).
Automatic operation for years - minimal maintenance is required. Special construction allows dry operation for hours.
Tolerates mild sediment in the water supply ---- can be used in rivers and streams.
Low borehole drilling costs ---- a diameter of 8,0 cm (3 1/4") is sufficient.
Robust and reliable ---- constructed from brass and stainless steel.
Pumping capacity (delivering amount at 6 sunshine hours)
| | | | |
| --- | --- | --- | --- |
| ¡@ | Sunny | Cloudy | Raining |
| 5 meter | 636 liter | 378 liter | 168 liter |
| 10 meter | 462 liter | 294 liter | 138 liter |
| 15 meter | 372 liter | 222 liter | 108 liter |
| 20 meter | 264 liter | 168 liter | 72 liter |

Taiwan I-Chuan Engineering Co.,Ltd
21F-2, No 137, Yong-Le St, Line-Ya Dist, Kaohsiung, Taiwan, R.O.C.
TEL: 886-7-3368830/886-7-9524385
FAX: 886-7-3368824
E-mail:ichuan.co@msa.hinet.net
http://www.ichuan.com.tw